ABOUT SCI
The Singapore College of Insurance (SCI) is a not-for-profit professional training and education body set up in 1974, as part of Singapore's efforts to develop as a financial hub.

For more than 45 years, SCI has remained focused in its efforts to upgrade the technical expertise of insurance and financial services practitioners, and to provide them with professional advancement opportunities, through its series of practice-oriented programmes and internationally-accredited qualifications. Since the late 1970s, the SCI has also played the role of an industry examination body to conduct regulatory examinations for those wishing to join the financial advisory, life and general insurance industries.

Since 2009, the SCI has also expanded its role to include talent development programmes, such as the Insurance Executive Scholarship Programme (IESP) and the Insurance Management Associate Programme (iMAP) that have succeeded in attracting and placing numerous fresh tertiary talent into the varied functions in the industry. The SCI was voted the Asia Insurance Industry Educational Service Provider of the Year in 1997, 2001, 2007, 2016 and 2018. It has international links with professional bodies, such as The Chartered Insurance Institute (CII), The Chartered Institute of Loss Adjusters (CILA), Glasgow Caledonian University (GCU), Institute of Risk Management (IRM), The American College of Financial Services, The Institutes, International Insurance Society (IIS), The Life Office Management Association (LOMA), LIMRA and The Australia and New Zealand Institute of Insurance and Finance (ANZIIF) as well as with other training institutes in the region, through its involvement in the ASEAN Insurance Education Committee (AIEC) projects. The SCI has also actively helped to set up the Asia-Pacific Risk and Insurance Association (APRIA) to further insurance education, and to promote links between academia and the industry.
COURSES OFFERED BY SCI
As the premier insurance industry training provider in Singapore, the SCI organises a series of courses, seminars and workshops under its P2 (Practice-Oriented Programmes) and R2 (Regional Routes) product icons, which are pitched at all levels, from Introductory to Advanced, to meet the Continuing Professional Development (CPD) needs of insurance industry practitioners with varying levels of experience and background from markets across the region.
The SCI also conducts a range of Certifiable Skills Courses under its C2 (or Certification and Competencies) product icon for the insurance industry's front-end practitioners in life, health and general insurance, broking, as well as for the financial advisory services industry. The C2 suite of programmes is designed to provide insurance and financial services practitioners with certifications, to satisfy regulatory and industry competency requirements.
In addition, the SCI conducts and awards its own Certificate and Diploma programmes in life and general insurance, as well as Professional Designation Programmes in insurance and related financial services under its E2 (or Executive Excellence) product icon.
Insurance Specialist Programmes (ISPs) enable practitioners to not only have a deeper study of specialised classes of insurance cum job functions but also to obtain the required qualifications and certifications to enhance their knowledge, skills and competencies in these areas.
SCIDigital (SCI's mobile learning app) adopts a micro-learning pedagogy that organises knowledge into bite-sized visually-impactful learning modules, enabling professionals to learn a concept within minutes and clocking CPD hours upon completion. SCIDigital also utilises gamification which increases active participation of learners and encourages their interaction with online communities.
The SCI also offers the CTS (or Corporate Training Solutions) product icon that leverages on the SCI's core competency in organising training and education programmes, as well as its wide pool of qualified and experienced industry trainers, to custom-tailor programmes that specifically address the learning needs of its insurance industry clients from across Asia.
To complement its suite of Certificate, Diploma and Professional qualification programmes, the SCI also publishes a wide range of life and general insurance, and financial planning textbooks to address the evolving education and training needs of the industry. Some of the study texts are also in e-version for easy access so as to leverage on the advances in information technology.
Business Name:
Singapore College of Insurance
Company Registration No:
199408491M
CPE Registration No.:
199408491M
Period Of CPE Registration:
From 26 September 2019 to 25 September 2023
Office Address:

9 Temasek Boulevard #14-01/02/03, Suntec Tower Two, Singapore 038989

General Enquiry:
(+65) 6221 2336
E-mail:
[email protected]
Fax:
(+65) 6220 6684
Website:
https://www.scicollege.org.sg
Office Hours:
8.30 am to 5.00 pm, Monday to Friday
Closed on Saturday, Sunday and Public Holidays
SCI PREMISES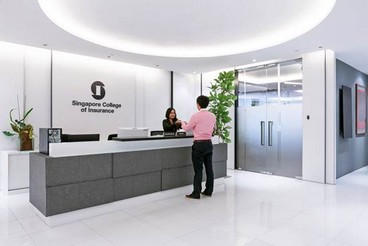 ADOPTER OF TRIPARTITE STANDARDS UNDER TAFEP